570-457-0147
We have the area's largest recording space, the most experienced staff of engineers, and state of the art gear
STAFF
MEET THE PEOPLE THAT ARE GOING TO MAKE YOU SOUND GOOD!
EQUIPMENT
Console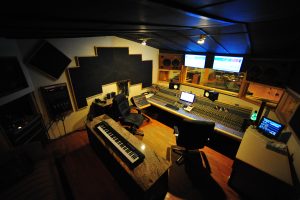 Neve 5106 48 Input Analog Console
w/ Flying Fader Automation
Monitors
Tannoy
Tannoy System 8
Yamaha NS10
Duntech Sovereign (Mastering Room)
Hafler Transnova Amplifiers
Computer Recording
Avid Pro Tools | HDX Software Version 12
32/32 I/O with 2 Avid HD I/O
Magix Samplitude
More Plugins than you can shake a stick at!
Analog Tape Machines
Studer A827 2" 24 track w/ Dolby SR
Studer A807 1/4 Inch 2 Track
Sony APR 5003 w/ 1/2 and 1/4 Heads
Ampex Model 300 3 Track 1/2 Inch ( B Room)
Otari MX5050B

Microphones
Telefunken U47
Neumann U87 (2)
Neumann U57
Neumann KM84 (2)
Neumann KM86 (2)
Lauten Atlantis FC-387
Lawson L47 FET (2)
RCA 77DX
B&K 4006 (2)
AKG 414 (2)
AKG 414 w/ C12 Capsule
AKG 460 (2)
AKG D12E
AKG D112
Audix i5
Audix D6
EV RE20 (2)
EV N/D 368 (2)
Sennheiser 421 (4)
Sennheiser 609 (2)
Sennheiser 431
Shure Beta 52
Shure KSM44 (2)
Shure KSM109 (2)
Shure KSM137 (2)
Shure SM7 (2)
Shure SM81 (2)
Shure Beta57 (2)
Shure SM98
Shure SM57 (4)
Beyer M201 (2)
APEX 460 Tube (2)
Crown PZM 160D (2)
Nady RSM 4 (2)

Microphone Preamps
D.W. Fern VT-2
Scheps  1066 (2)
Brent Averill Neve 1272 (2)
Golden Audio Pre 73 MK II (2)
RTZ9762 (2)
RTZ 9740 (2)
API 312 (4)
Millennia HV-3D (8)
GML mod8302 (4)
Chameleon Labs Model 7602 (6)
Compressors
URIE1176 (2)
URIE LA3 (2)
URIELA4 (2)
URIE1178
ADL 1000 (2)
DBX 160VU(4)
DBX 160A (2)
DBX 160X
Skibbie Tube Compressor
Equalizers
Neve 1066 (2)
Chameleon Labs Model 7602 (6)
Focusrite ISA 430
GML 9500 (Mastering)
Melcor Two Band Discrete EQ (4)
MIDI / ANALOG SYNTH
Yamaha Motif
Arp String Ensemble
Micro Korg Synthesizer
D.I. Boxes
Effects
Lexicon 480L w/ Classic Card
The B Room
Amek Tac Scorpion
Avid ProTools 12
Focusrite Scarlett 18/20
Ampex Model 300 Tube 1/2 inch Three track
Instruments and Amps
Baldwin Grand Piano
Hammond A100(B3) w/ Leslie 147
Hammond C3 w/ Leslie 122
Wurlitzer Electric Piano
88 Key Rhodes Electric Piano
Bechstein  Grand
Fat Cat Custom Strat Style Electric Guitar w/ Electric City Pickups
Gibson Les Paul Standard w/ Electric City Pickups
Fender American Jazz Bass
Fender American Telecaster
Tacoma 6 String Acoustic
Zachary Guy Mandolin
Crucinelli 120 Bass Accordion
Marshall 1986 Bass (1972) 50Watt
Marshall 4x12 Cabinet
Mesa Boogie Mark V 25
Custom 1x12 cabinet w/ Warehouse Reaper 30 watt Speaker
HIwatt Studio Stage MK II
Phaez SIBLY 18 Watt Combo w/ Heritage 60 Watt Speaker
Peavey 6550II Guitar Head
Peavey Classic 50 Guitar Head
Peavey 4x12 Cabinet
Peavey 1x15 bass Cabinet
Gretsch 6 Piece Catalina Club Maple Drum Set
Zildjian Cymbals
A Huge Gong!
CONTACT
We'd love to hear from you!
DIRECTIONS
Directions From I 81 N or S:
Take exit 180 (Moosic)
Follow signs towards Moosic
Once you get off the exit, move to right lane
Make Right  at Traffic Light ( Main St)
Make Right on Lonesome Road
Make First right over Bridge
Studio is Immediately Over the Bridge on the Left
(it's much easier than it sounds here...trust me)
S I Studios 945 South Main Street Old Forge, PA 18518-1433
Please Note: Some Web Based Maps (Mapquest, Yahoo, etc.) are wrong! Please follow the directions here: Simply Click on the Red Pointer and Select Directions.